Welcome to KPL QI Solar Eclipse! As the total solar eclipse just days away (August 21st, 2017) and the subject on everyone's lips this might be the perfect moment to chat about fantastic facts and events surrounding these celestial events. Joining me on this panel can be all of you! Just comment below with any fun facts, trivia, and/or just thoughts about solar eclipses you would like to share. I would love to hear from you.
There are many reasons it is never wise to drink while on the job but perhaps the best comes from one of the earliest record of an eclipse. In the document Shu Ching tells a legend of two royal astronomers, Hsi and Ho, who got so inebriated they failed to predict the solar eclipse of October 22, 2134 B.C. As punishment the emperor had them beheaded. 
From ancient China let us bounce to modern Kentucky. St Louis is definitely an advantageous place to view the 2017 solar eclipse but Hopkinsville, Kentucky, is the closest to the point of Greatest Eclipse. Before you pack up and leave town know that finding lodging in that vicinity will be tricky. Everything has been solidly booked since 2013!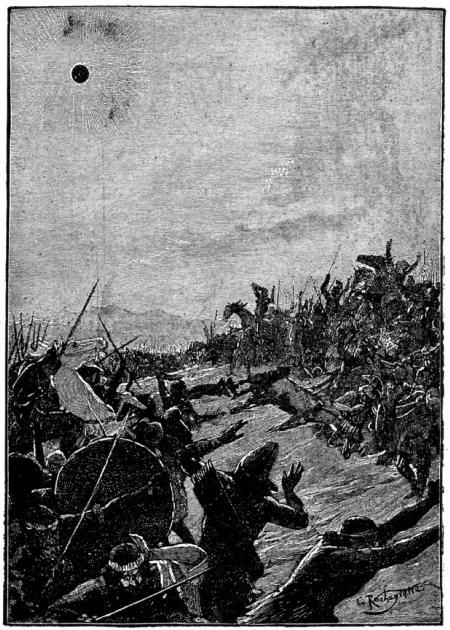 Let's get back in our time machines and drop by May 28th, 585 B.C. While there, according to Herodotus, we can watch the ceasefire between the Lydians and the Medes. During the Battle of Halys a solar eclipse was interpreted as a sign that the gods wanted the five year long war to end and both sides negotiated a truce.
Looking for a fun activity to celebrate the solar eclipse?  Come by Kirkwood Public Library on Saturday, August 12 at 2pm for Solar Eclipse 101. Presenter Ron McLachlan will be here to help us learn about the sun and be prepared for the solar eclipse.
Well there you have it. A small handful of fun solar eclipses tales and trivia. It's time to disappear behind the moon now but we shall leave with a quote from Stephenie Meyer's book Eclipse. "Fall down again, Bella? No, Emmett, I punched a werewolf in the face."  …hmmm …Food for thought.
I'm Ryan. I'll be in the library. Always enjoy your Eclipse.